Performing with Imogen Heap in Amsterdam (LIFE GOAL ACHIEVED!)
VIDEO: Imogen Heap - Earth with Janice Wong on cello using a loop machine
VIDEO: Imogen Heap - Aha! with full band
"I love playing music with people, especially because the way you connect can be much more meaningful and special than talking one on one."
16.30
Cycled to Melkweg with the cello on my back, and got in just as the rain started. Met the lovely crew and got fitted with a radio pack and hit the stage. Oh, how nerve racking. Roll in the cellist! I sat there sorting out my leads and loop machine, and bowed out some tunes. Tried to ignore the fact how scared I should have been, on stage with Imogen Heap, but I just closed my eyes, listened to the cello echo in the hall and concentrated. We ran through Earth once. She was already happy with it, smiling and ready to move on. Then the others came onto the stage for Aha!. She said "we didn't tell you we were playing this one did we?" No, I wasn't expecting to play this one (but of course had practiced it anyway) and she said she had seen my audition (all those months ago) so she knew I could play it. After one time through it already felt good and Imogen smiled, because she knew it was going to be all good.
18.00
Imogen ran off to 9 straatjes (9 streets) to get an outfit and I had some good Thai food with Ben Christophers and Emma and Vince from Geese, before rushing back to get ready. It was an early show, with no supports. Bumped into my two Dutchies outside and we went in. I hadn't told one of them I was playing, so it was a little bit tricky to hide my all-access pass and to explain that I was wearing these small bud-earphones as a fashion accessory (hiding the radio pack under my armpit)...
19.40
And the show began! I was calm. It was cool to enjoy the first half of the set in the audience in great company. It was my second time seeing Imogen Heap in concert, the first time was in Melbourne, where I discovered she was auditioning cellists while at the show. It felt like this was my second chance. And those don't come around often in life. Just before she performed 'Let Go' from the days of Frou Frou, I said to my friend, "I'm just going to the toilet" and never returned...
Imogen told a little story of my audition before she brought me out, and when I came out, the crowd (my friends haha) screamed very loudly, "Jaaaaaaaaaanice!!!!" thanks guys!
I plugged in, and I had a moment with myself when I looked into the black mass of people, which was probably 900 people all there watching me. I started playing and I knew it was all great from that note on. I started to enjoy it. When I looked over at Imogen to start, she was smiling at me. Wow. I've talked about this before, but I love playing music with people, especially because the way you connect can be much more meaningful and special than talking one on one. I mean, we had hardly said more than 3 sentences to each other, but on stage we knew each other.
LOVED IT. And my friends too, and the rest of the crowd! Ben later on told me he was jealous!
22.00
Took the crew out for a drink at Weber "a favourite haunt for musicians and well known for playing the latest independent music". Yes it was fun! So great to be surrounded by such great people. And, they only had good things to say about me, which was so generous of them.
02.00
It was time to send the crew off. Stood outside the big black bus (the size of 2 stretch limos and a small train carriage) with Imogen and had a strange moment, you know, you have a one in a lifetime chance to say something meaningful or impactful, but also know it's better to say nothing in case it's too corny. I already played the 'silly' card when I gave her some dutch treats (a wooden tulip, clogs and a chocolate letter) then asked for a photo and some autographs. Haha! I just accepted my position as a young fan. I just said thank you a billion times, and she thanked me too, wished me luck for my studies, and hugged. All the best to you too Imogen.
PHOTOS
Janice and her 'fans'
Imogen and her digital grand piano
Ben Christophers on guitar
Had to do the cheesy thing and give her some Dutch presents including a tulip, clogs and chocolate letter.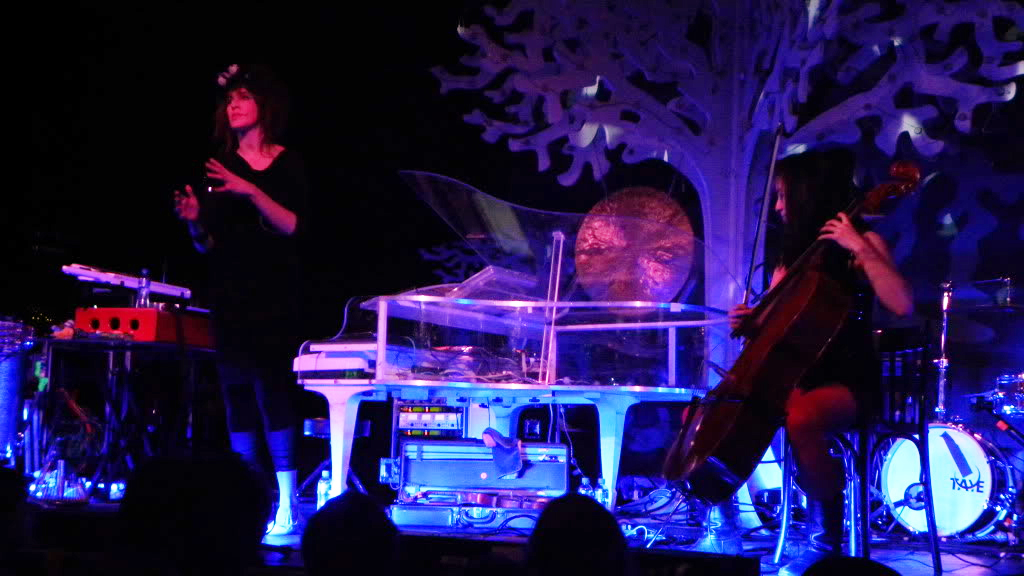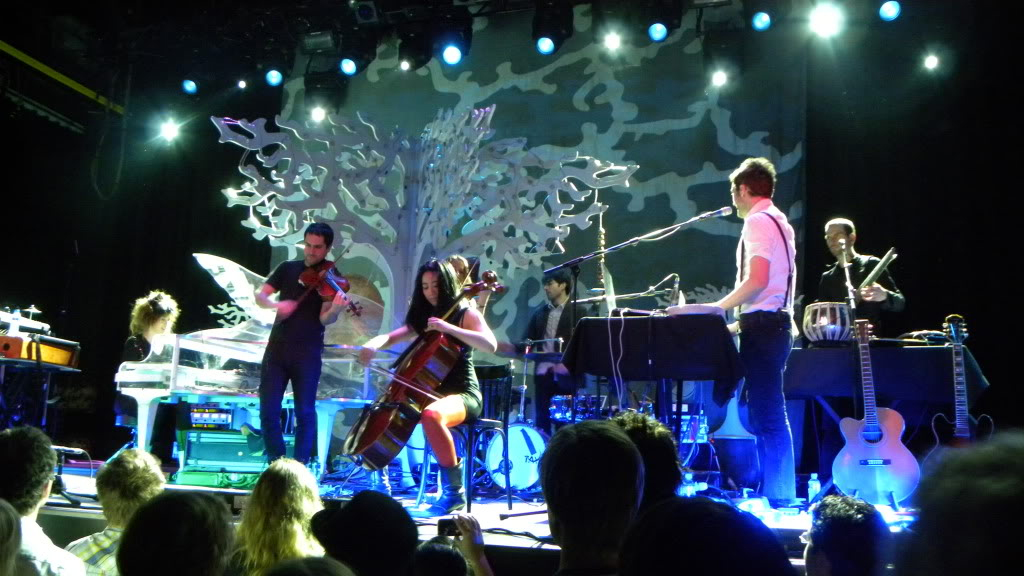 https://www.youtube.com/watch?v=do22HLj4kcw by user dukespirit, originally on http://ghostsofmylife.web-log.nl/
https://www.youtube.com/watch?v=1HdcvhSEnDs by user pegasusnl
https://www.youtube.com/watch?v=AkTDD5Tvtrk by user aalten82